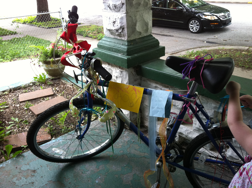 I often have trouble when it comes time to buy Martino a gift. Part of this problem comes from not having much money of my very own to spend on him and the fact that I think it's pretty ridiculous to spend his money on a present for him. So, yeah, money is what makes it hard. Anyway, for Fathers Day I had the idea to get him something i knew he wanted, but would never get for himself: a bicycle. I think it was a perfect gift for him! He's been making up all sorts of unnecessary errands so he can ride his bike around and he tells me over and over how much he likes it. This makes me so happy!! Successful gifts are a great thing.
Here's our humble city garden. It makes me happy, even if the tomato plants are looking pretty runty.
It's raining here, but it's supposed to be perfect weather for the Fiddlers Gathering this weekend!!!!!